STRONGVOICE Wireless headset
STRONGVOICE Wireless Headset is one of our most appreciated products and is an excellent complement to our different voice amplifiers.

The product is very easy to use and can be connected to already existing soundsystems in different facilities such as museums.

Many customers use the product to our voice amplifiers. This means that you don't need to attach the voice amplifier to your body but can position it in an appropriate location.

The Wireless Headset can very easily be connected by placing the receiver in the voice amplifier.
STRONGVOICE Wireless Headset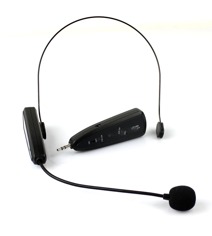 Frequency: 2.4G
Operating Battery time: 8 Hours
Recharging time: 3-4 Hours
Range: Approximately 20 meters
Lithium battery: 3.7V
Weight: 456 grams
Measures: 30mm x 20mm x 88mm

Read what a few of our customers thinks by clicking References.