We offer and customize complete Guide Systems according to your wishes.

For the Guide System, everything needed is included, i.e. transmitter, receiver, microphones, earphones and charging/storage case.

If you want other options for the number of recipients or have questions, contact us on tel. no. 072-571 05 01 and/or via email info@strongvoice.se

We have many people who buy guide systems from us at Strongvoice and our customers are in a variety of different companies, associations, churches, municipalities in industries such as Museums, Gardening Associations, Guides, Tour Operators, Industries, Visitor Parks, Congregations and many more.

The Guide system consists of a transmitter and any number of receivers. The range is up to 100 meters and the sound is of very good quality.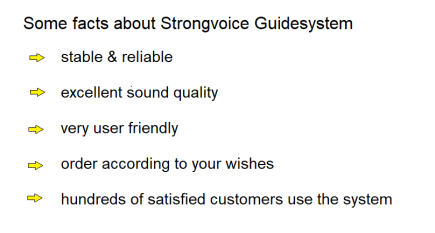 The Guide System can be used for an unlimited number of receivers. Many use the Guide System One-way communication to groups from 10 up to 200 people/listeners.

The devices are small and light, about the size of a matchbox. The devices have rechargeable batteries that last up to about 16 hours. We can also offer about 32 hours of battery life on the devices.

If you wish other options or need more information, please contact us on

tel.nr +46 72 571 05 01
mail info@strongvoice.se
____________________________________
References

Trädgårdsföreningen i Göteborg, one of Europe's best-preserved 19th-century parks.
The guide system from Strongvoice works great and is very good for both participants and our guides.
The system is user-friendly, has an excellent sound and all our participants can hear what is being said.

OKTOGO AB
"I'm very happy with my system and the feedback from our guests is brilliant."

Skara Pastorat/Church
" We have bought Strong Guide System. We use the system in Varnhems Abbey and outdoor around the ruins. They are great! Just in time for the purpose, with good tone in the sound, easy to carry and to use. Thanks for a great product!

Kongernes Samling Rosenberg Slot
Ib Andresen Industri A/S
TRANS NORDIC TOURS
COOR AB, Glenn Evans
Avesta Kommun
U. Jorner, Örebro Senioruniversity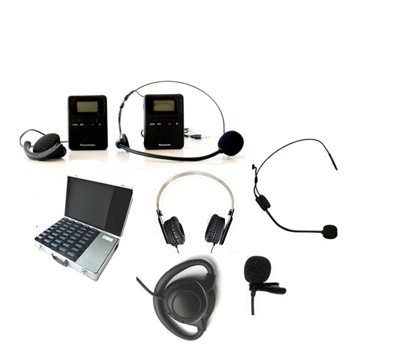 Guide System 30 receivers
1 transmitters
3 headset with microphones
3 collar microphones

30 receivers
40 earphones
1 charging / storage case

Price 24 975 SEK excl. VAT 25% and freight

Guide System 40 receivers
1 transmitters
3 headset with microphones
3 collar microphones

40 receivers
50 earphones
1 charging / storage case

Price 29 975 SEK excl. VAT 25% and freight

Guide System 50 receivers
1 transmitters
3 headset with microphones
3 collar microphones

50 receivers
60 earphones
2 charging / storage case

Price 39 975 SEK excl. VAT 25% and freight