We offer complete guide packages according to your wishes.

We deliver Guide Systems across Europe and to various branches such as Museum, Travel Agencies, Professional guides, Factories and many other.

The Guide packages includes everything needed: transmitter, receivers, microphones, earphones and charging / storage case.

Strongvoice One Way Communications contains of one transmitter and an optional amount of receivers.
The units are small, convenient and very easy to use. They are rechargeable and can be used for approximately up to 16 hours. We can also provide a battery life up to 32 hours.

The range reaches up to 100 meters and keeps a very high sound quality.

The units are among other features, provided with 60 channels and a volume controll for instant sound adjustment.
We can also provide extra transmitters for the option of several groups due to i e. other language or other guide routes when guiding.

The transmitter is used together with a collar microphone or a headset with microphone.

The receiver is connected to an earphone. We can also offer various types of earphones.

Many customers use Strongvoice Wireless for groups containing from 10 up 200 listeners.

The system is CE and RoHS certified.

If you wish other options or need more information, please contact us on

tel.nr +46 72 571 05 01
mail info@strongvoice.se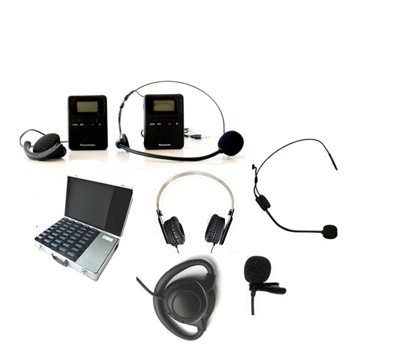 Guide System 30 receivers
1 transmitters
3 headset with microphones
3 collar microphones

30 receivers
40 earphones
1 charging / storage case

Price 24 975 SEK excl. VAT 25% and freight

Guide System 40 receivers
1 transmitters
3 headset with microphones
3 collar microphones

40 receivers
50 earphones
1 charging / storage case

Price 29 975 SEK excl. VAT 25% and freight

Guide System 50 receivers
1 transmitters
3 headset with microphones
3 collar microphones

50 receivers
60 earphones
2 charging / storage case

Price 39 975 SEK excl. VAT 25% and freight